This post is copied from genderavenger.com as part of the merger between All In Together and Gender Avenger. Read more about Gender Avenger here.
On the same day that Jacinda Ardern, Prime Minister of New Zealand, announced she was stepping down because she "no longer had enough in the tank to do the job justice," women leaders met at the 2023 World Economic Forum in Davos, Switzerland to talk about how to reach gender parity in leadership.
While women still only represented about a quarter of the participants, progress has been made. 10 years ago, women made up about a fifth of attendees. As Peter Vanham wrote in FORTUNE, "It's agonizingly slow progress for an issue that's been on the agenda for so long. But, nevertheless, a gender tipping point appeared near as those in positions of power are increasingly implementing building blocks for a gender balanced workplace."
Reaching gender parity in leadership was the topic of one lively session, Women's Leadership: Towards Parity in Power. Saadia Zahidi, Managing Director at the Forum moderated the session. The four panelists were:
Setting the Stage
Alarmingly, the Global Gender Gap Report 2022 revealed that it will take 132 years to reach gender parity. This is up from 100 years pre-pandemic.
"We call it a shecession," Whitmer commented, "because of the disproportionate impact on women who left the workforce in droves to care for families."
Gonzalez Laya pointed out that women "saved us" during the massive health crisis, working as nurses, doctors, and workers at the "base of the pyramids." And yet, why are they not running countries, given their talents? They are simply not in positions of power.
As the moderator asked for solutions toward reaching gender parity, the panelists shared their own journeys to prominent roles. While they came from vastly different backgrounds, common themes emerged.
Open your eyes and stare into the darkness!
Alinejad had unimaginable barriers to overcome. The Iranian educational system told her she was second-class. On top of that, she was told she would be hanged by her hair if she did not cover it. Her family was very poor and had no indoor plumbing.
"I had a tiny mother, who could not read or write," she said. Yet, it was her mother who inspired her from a young age to confront the challenges of her circumstances head-on. This included walking through the pitch black of night to their outhouse. Setting foot on that path of uncertainty as a child taught Alinejad to not let fear devour her.
"Open your eyes and stare into the darkness!" her mother urged her. Now women are opening their eyes in the streets of Iran, with support from men, for the first time. "We have to be tough and determined and fight every day!" she cautioned.
Women need to believe in themselves
Girls growing up in a post-Soviet country were told their "biggest achievement is a good marriage," Tsikhanouskaya explained. When her husband was imprisoned for running as an opposition candidate to Belarussian President Alexander Lukashenko, she stepped up. As she put it, "yesterday in the kitchen, and today in big politics".
Since August 2020, she has worked with a staff of 16 people in exile in Poland. As leader of the Belarusian democratic movement, she advocates for the release of more than 1,500 political prisoners and a peaceful transition of power through free and fair elections. She has visited 28 countries in support of these goals. She emphasizes the need for a braver response to the actions of the Belarusian dictatorship.
Despite being nominated twice for the Nobel Peace Prize, she admits to feeling at times like an imposter as she has faced down arrogant men and confronted people who remind her that she did not study politics and is inexperienced.
"Women should understand that they should not devote talents only to family," she insisted. "Women take care of homes so why not countries! Presidents and prime ministers should be women."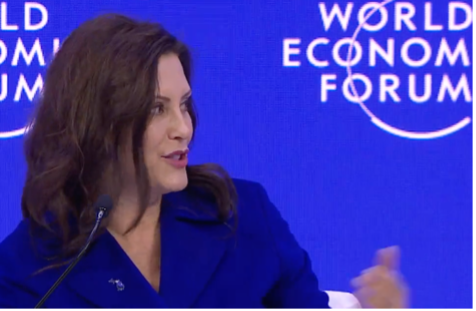 We need men to eliminate barriers
Whitmer grew up in a household with lots of women in Michigan, but it was her father, a lawyer who served in government, she said, who gave her the confidence to become a lawyer, educator, prosecutor, state representative and senator, and finally, one of just a handful of women governors.
"Not every young female is fortunate enough to have a dad like I did, someone who created some opportunities for me. That is why it is on all of us to be part of the solution."
Whitmer faced a terrifying experience in late 2020 when the FBI announced the arrests of 13 men suspected of planning a domestic terror plot to kidnap her and use violence to overthrow the state government. Yet, she remains undaunted, committed to her work and paving the way for other women.
"The highest compliment is when a young woman comes up and says, 'I think I can do that, because I see you doing it'."
This conversation cannot just be with women leaders
Gonzalez Laya, the first woman to lead The Paris School of International Affairs, also served as Spain's Minister of Foreign Affairs and as Assistant-Secretary-General of the United Nations and Executive Director of the International Trade Centre.
She described how in her family, she was treated exactly as her brothers were treated, so it was not until later that she came to see that pushing for women's rights was necessary.
"When I started to work, I realized there were very often cases where I would be the only woman in the room, for no reason. There were very smart women outside the room, but they were simply not invited."
She believes that we have "to be a little bit more activistic. And for that, my sense is that this conversation cannot just be with women leaders. It has to be with men and women seated around the table because at the end of the day, we want a society that is more solid. If it is not going to happen organically, then yes, we need quotas… You set a quota, fix objectives, yes you measure it and make sure this is respected. And you report on that."

Hope in Unity
The four panelists agreed that there is hope, despite the current challenges women face in attaining positions of power. For Gonzalez Laya, it is the younger generation of students at her university, who are determined to fight for gender parity. "They don't ask why," she said, "they ask how."
Whitmer described the positive results for women in her party in the midterm elections for her state, Michigan, where the "people were engaged and their voices count… that gives me hope, and I hope it gives some of you hope as well."
Alinejad invited the whole world to share its unity with the women of Iran and Afghanistan, because there will be no freedom until these women are free.
Tsikhanouskaya concluded, "I see hope in unity, and I see hope in unity of women."